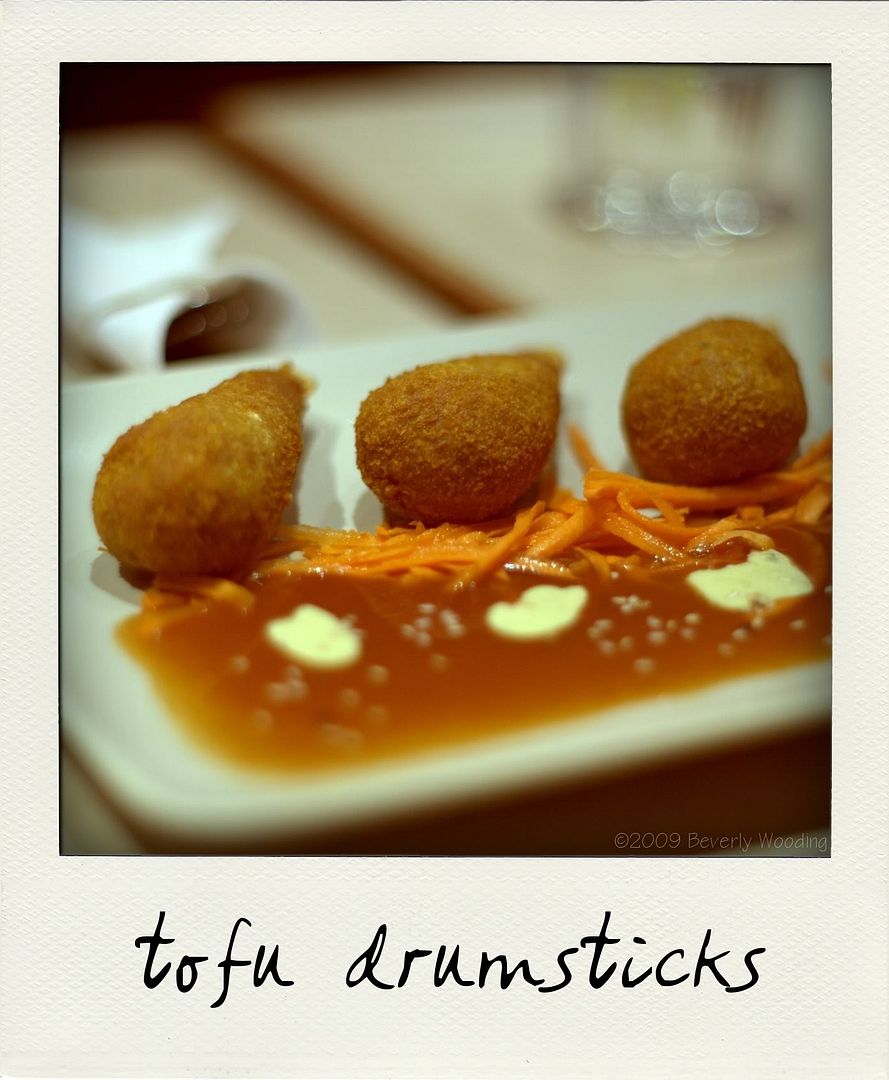 Back in May, I was invited to the second beta event of Tasting Tour Toronto. There's been an embargo on releasing the details of the meals until TTT got their site together, which is now, so go!
TTT is a new initiative by Jaime Woo and Naomi The which aims to bring together local food enthusiasts to enjoy all the good eats the city has to offer. For this  edition we visited Vegetarian Haven, Art Square Café, David's Tea and Sin & Redemption, all in and around the Baldwin Village area.
First stop was Vegetarian Haven where we were treated to a freshly made carrot and orange juice, then tofu drumsticks. I was a bit wary of these, as I believe if you like the taste and texture of meat, you should eat meat. Don't eat something pretending to be meat. However, these "drumsticks" made no pretensions to being chicken. It was more like a veggie dumpling skewered with a piece of sugar cane. Not a bad start to the evening.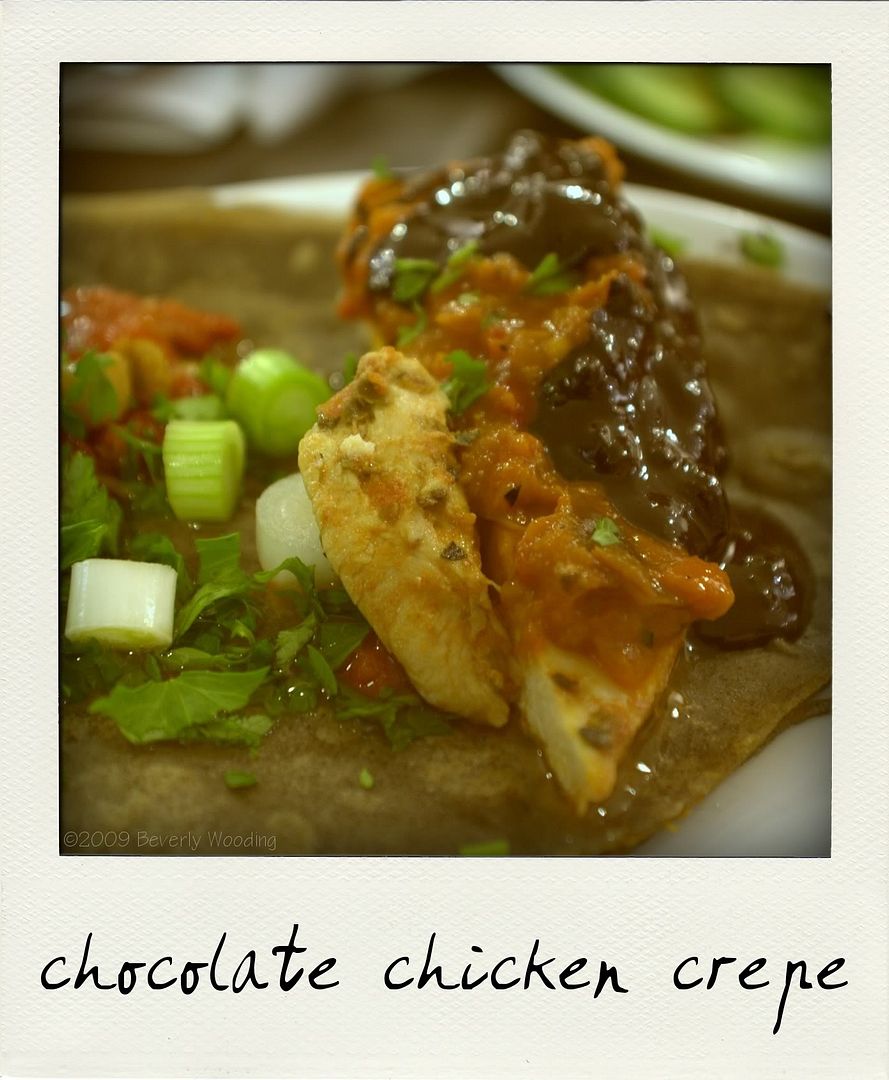 Next stop was the Art Square Café for a very filling and delicious chocolate & chicken crêpe. The buckwheat crêpe was filled with tender chicken breast and vegetables, topped with a bittersweet mole. As I struggled to finish the dish, I started to worry, as there were 2 more stops to go! We left with our choice of chocolate truffle in hand (I went with the Pistachio Dark - YUM!) and hit the streets once more.
Luckily, the next tasting was a beverage. David's Tea was a fragrant bounty of any type of tea you could ever want. The staff were really knowledgeable and were more than happy to pass around any tin we wanted for a sniff. On smell alone, I bought a tin of their Read My Lips blend, which is a China black with vanilla, peppermint, red peppercorns, chocolate bits and tiny candy kisses. Uh huh. It tastes as good as it sounds... and smells. While at the shop, I also sampled their Bourbon Street Vanilla, which is also highly recommended.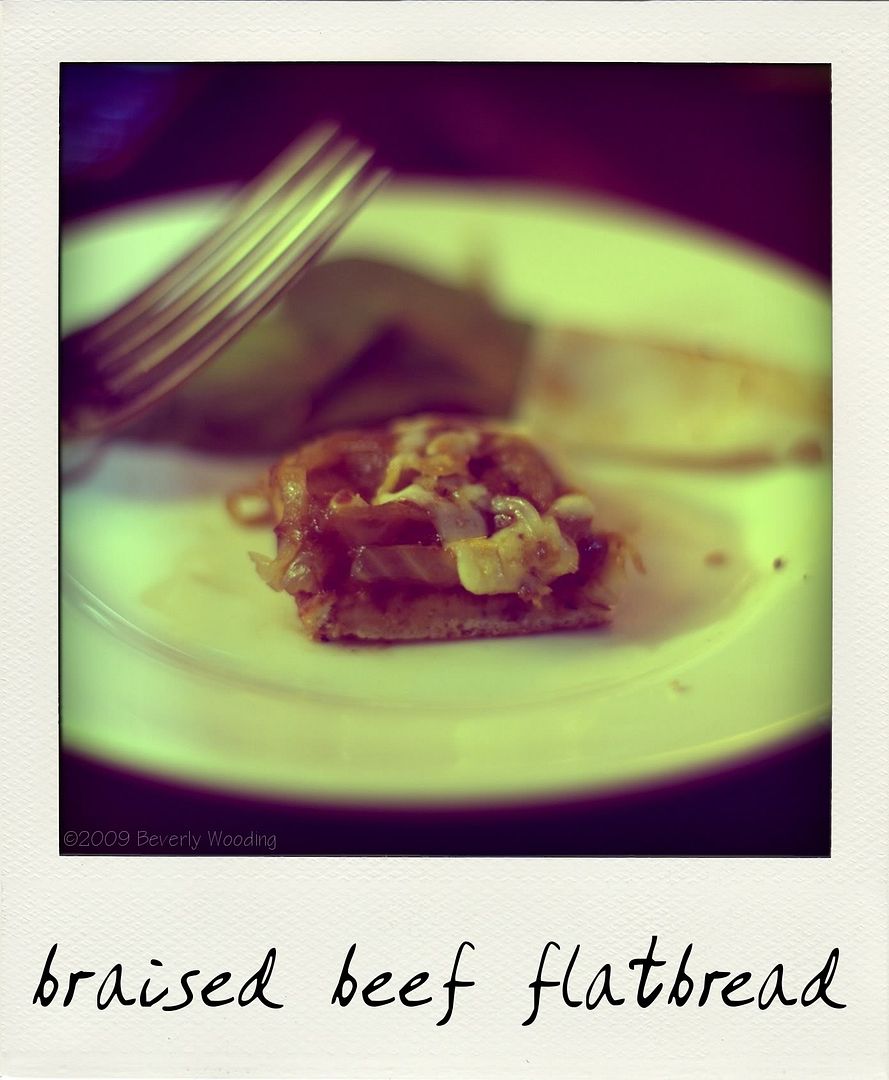 To round out the evening, we visited the pub Sin & Redemption, where we were treated to a sampling of their frites, as well as their signature flatbreads. The frites, though beautifully presented, were underwhelming and a bit limp. The flatbreads though... Well, I can understand why it's their signature dish. There was a chicken and a beef offering, and by far, my favourite was the braised beef. The meat was melt-in-your-mouth tender and rich in flavour. A definite win.
Stay tuned to the Tasting Tour Toronto site for news on their next event. It may just be the best bang for your buck this summer.