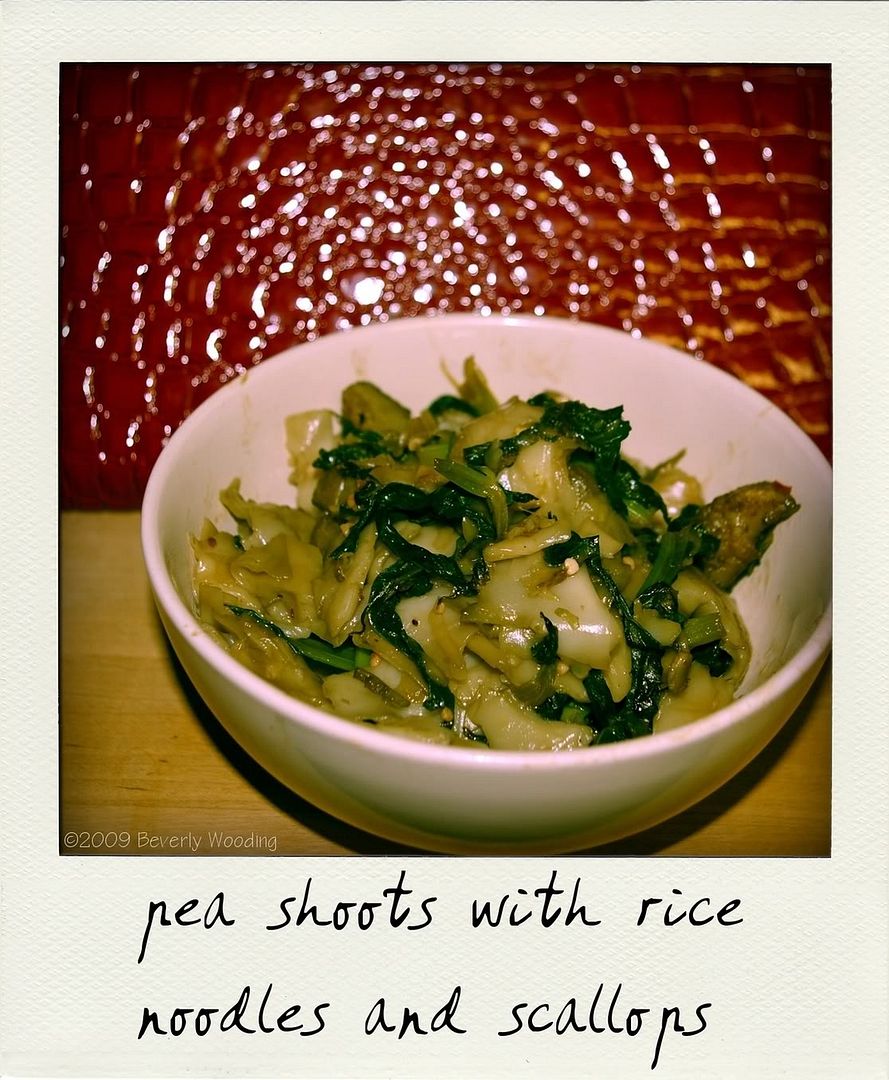 I'd been meaning to pick up some snow pea shoots for weeks now, thanks to The Girl Who Ate Everything. So last night was the night I detoured to Chinatown on my way home and got them. To go with them, I also got some wide rice noodles already cut into squares.
Looking back at TGWAE's pea shoot post, I see my error. She had pan fried the noodles. I boiled them, and they stuck into a giant colander shaped blob. Peeling that hot mess apart was hard work. I kinda gave up and just cut them into smaller chunks. I do have enough of all the ingredients to try this again though.
While it didn't end up looking so pretty, it tasted pretty good. Next time I make this, I think I'll add more garlic as well. For now, here's what I did last night.
Snow Pea Shoots with Scallops and Rice Noodles
Ingredients


12 large sea scallops, halved


½ tsp sambal oelek


½ tsp minced garlic


2-3 Tbsp Hoisin sauce


juice of ¼ lemon


½ package (about 8 oz.) wide rice noodles, cut into 1" squares


1 Tbsp minced garlic


vegetable or sesame oil


soya sauce to taste


Method
Marinate the scallops in the sambal, garlic, lemon juice and Hoisin sauce for about 30 minutes.
Heat the oil in a large, deep pan. Sauté the garlic for about 1 minute, then add the snow pea shoots. Cook the greens until wilted.
Meanwhile, cook the scallops in another pan. Once the shoots have wilted, cook the noodles very briefly in boiling water, about 1 or 2 minutes. Drain and toss with the greens and scallops. Drizzle with soy sauce and serve.