Last night, I met up with some fellow photogs for a TPU meetup/beerup. Before the drinking though, we went to the newer New Generation on the north side of Bloor with the intention of doing the all you can eat Korean BBQ. Normally, I don't bother with all you can eat deals, as I can never eat enough to make it worth my money. However, when people saw bibm bahb on the menu, it was orders of that all around.
Because we'd been made to wait half an hour, despite having a reservation,  our server, Spring Flower (for reals), brought over some squid and edamame on the house. Avoiding the tentacles, I dug into the squid, which was swimming in a delicious, sweet sauce. They were a hair on the chewy side, but overall, very good.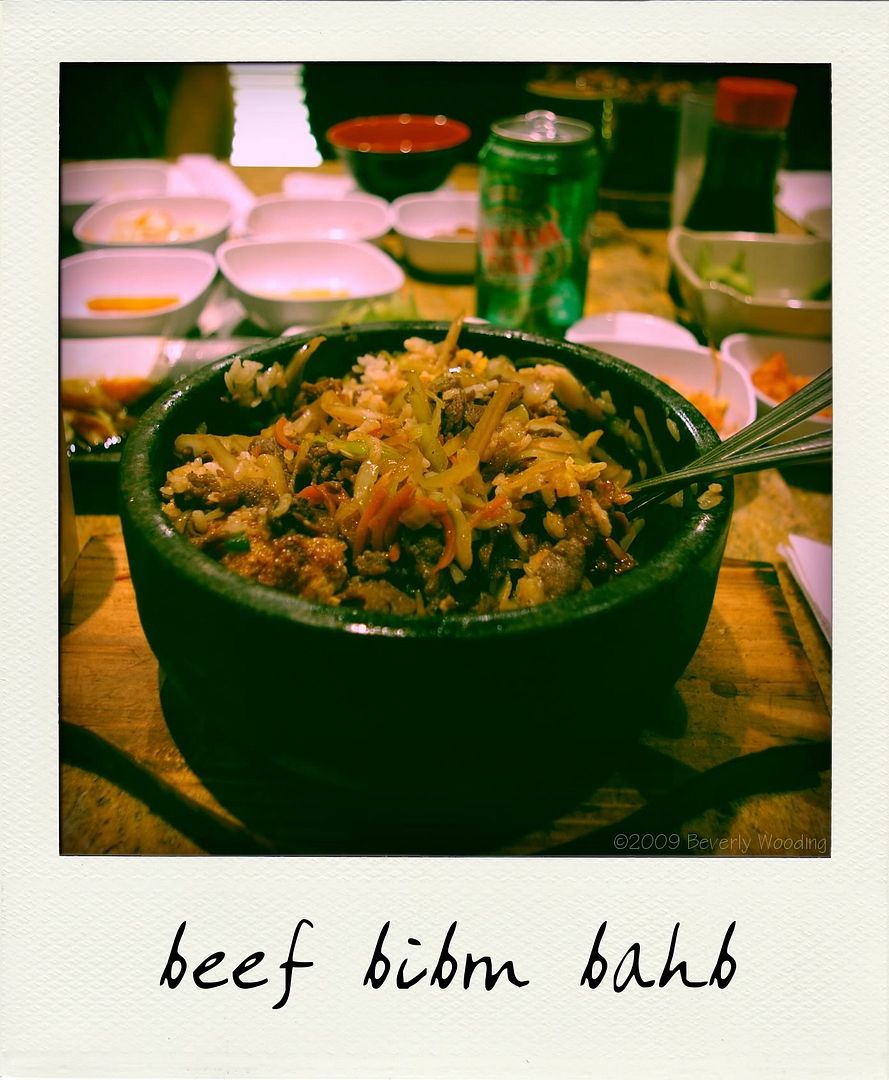 Then came the main event. Bibm bahb, also spelled bibim bahb and bibm bab, is essentially Korean stir fry. It's a mix of meat and vegetables cooked over high heat in a stone bowl. It's then topped with a fried egg. This was my first time having it, and apparently, it's customary for the rice to be at the bottom so it gets crunchy. This time, they put the rice on top and mixed that all together, with a sweet chili sauce, at the table. As Mark put it, it's comfort food.
I loved it. The flavours were a lovely blend of sweet and savoury, the beef was very tender, and the veg still retained enough of their crunch. There was a bit of added crispiness via the egg, which was allowed to get brown around the edges. I usually just say no to a runny yolk, but because the egg is stirred into the rice/meat/veg combo, you never even notice it. I'll definitely be having this again, especially since, at $8.95 you get a huge portion - enough to have leftovers the next day. Which I totally did.
At the end of the meal, Spring Flower offered us complimentary ice cream too, god bless her. Half of us opted for the mango, while the others went with the green tea. Jason said the green tea ice cream tasted like seaweed. I think he might have been alone in that assessment, but I'd gone with the mango. The mango flavour was a touch artificial tasting - a little too mango-y, if you know what I mean - but still delicious.
We then headed over to James Joyce for the drinking, groaningly full, and happy.