Sooooo, I've been a bit lax about posting this past little while. Life just took over. To make it up to you, I'm gathering the best of the past 10 days meals here for your enjoyment.
First up, as promised, is my Winterlicious dinner. Glenn, Alanna and I went to
Wish
. Unlike so many others I've heard from, I'm happy to report that this was a fantastic Winterlicious experience. Our waiter Christian was lovely and attentive. Even though the restaurant was busy, we never felt neglected. The restaurant itself is pretty and cozy, but the lighting doesn't lend itself to photography, as you can see.
For the starter, I chose the escargot sauteed with wild mushrooms on grilled pancetta polenta. My only quibble is there were only about 4 pieces of snail, and they were definitely the star of the dish. I do believe they were the most perfectly cooked escargot I've ever put in my mouth.
Next up was the butter poached salmon fillet with wilted spinach and squash risotto. SO delicious and rich. My favourite part was the last bite of salmon, which seemed to have gotten more butter flavour than the rest of the fillet.
The dessert was where disappointment set in. Christian kindly brought us a sampling of all four desserts on offer. I was so looking forward to the maple brandied crème brulée, but all I could taste was egg. In fact, it tasted more like a slightly sweetened scrambled egg dish. The all around favourite was definitely the lemon tart.
Unfortunately, even though Winterlicious is extended until February 28, Wish is undergoing renovations right now and will reopen March 1.
On Valentine's Day, I got to hang out with two of my favourite people. Kate & Christopher had me over for food, wine and 30 Rock. Chris had whipped up a cous cous with roasted carrots (including a purple heritage variety) and parsnips, topped with a piece of pan roasted cod. I also got a lesson in what a varietal wine glass can do. It's magic!
The next morning, I went back to White Squirrel for a bite and tried their stratta. It was eggy in the right way and chock full of roasted red peppers.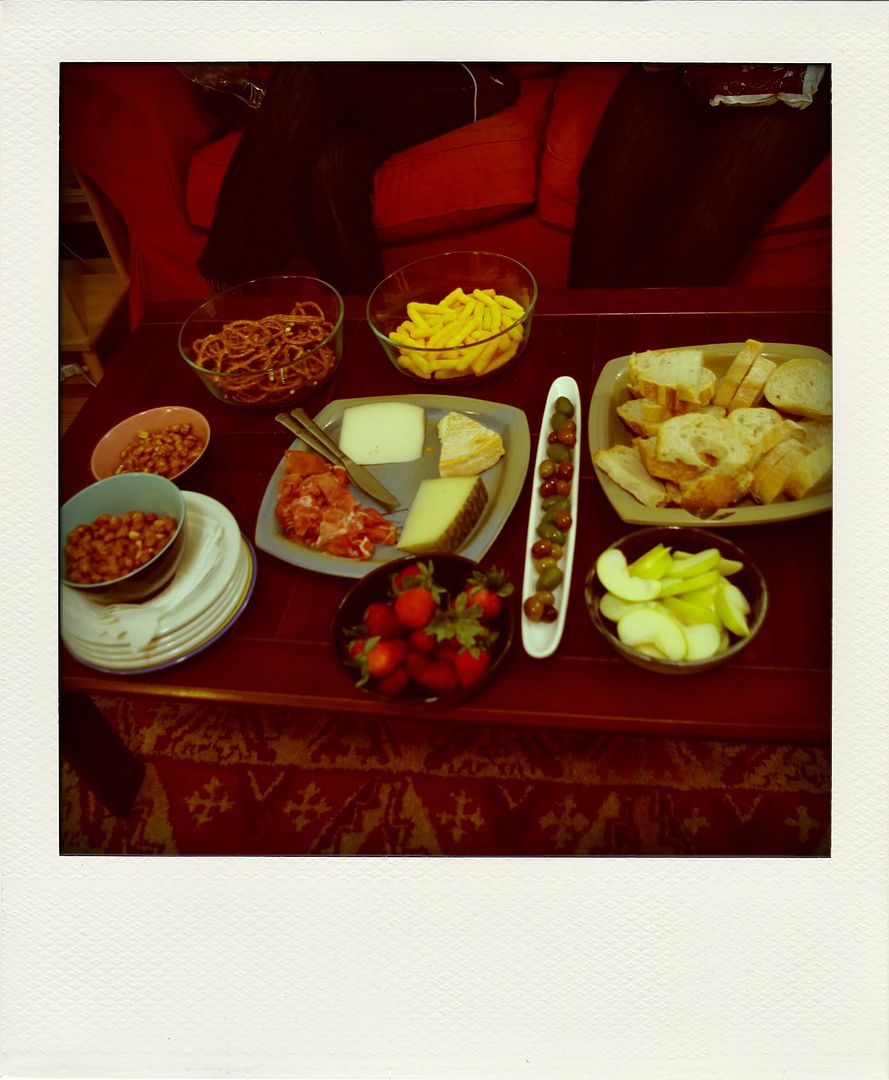 The stitch and bitch spread included some amazingly sweet strawberries, a variety of olives, a lovely rosemary olive oil bread, cheeses, whisper thin proscuitto and more. And wine of course.
On Wednesday, Alanna came with me to the tea lecture and tasting at Tastes of Tomorrow at George Brown College. I got a lot out of it and will definitely go to the other sessions in the series. After the lecture part of the evening, we taste tested the effects different waters have on tea. My favourite, at least with the oolong we tried, was regular spring water. Try it!
The next night, a bunch of us ventured waaaaay east of Yonge to go to True Brew Cafe for the opening of Rannie's new show, Bloom. If you're in the Woodbine & Danforth area of Toronto, I'd recommend this cafe for a quick bite and a tasty caffeine hit. The spread included the mini cinnamon buns and cheese scones pictured above. Three words. Oh. My. God.
This was what I had for lunch on Friday. I got some more of the olive ciabatta and toasted it up, then layered oka cheese, avocado and honey ham. Yummy.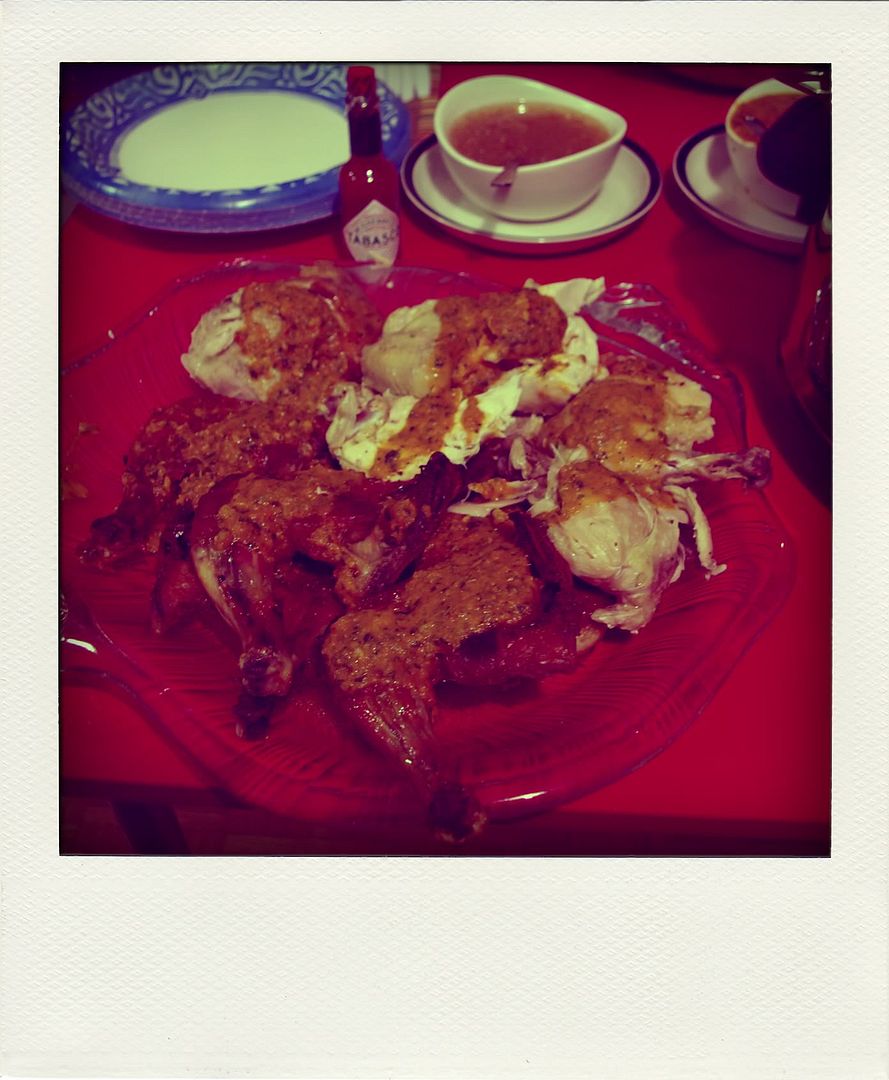 That night, after going to my friend John's opening party for his gorgeous solo show, I dashed over to Sheldon and Aida's for a family get together. Sheldon's dad is here for a visit, so it was a great opportunity for a lime. The four roast chickens Aida made were topped with a sauce she made from the tomatoes that roasted with the fowl, herbes de provence, parsley, garlic and olive oil. She also whipped up a delicious canteloupe juice that she stuck in the freezer for a while.
PHEW! Okay, we're all caught up now. I'm never letting it go this long again!